Research Chambers for Academia and Government Laboratories
OVERVIEW
Design for Manufacture
Whether your experiment is being conducted in an academic facility or a government laboratory, Vacgen supply bespoke chambers to facilities around the globe. Our vast portfolio of bespoke chamber and system projects, gives us a wealth of knowledge and experience for one-off chamber builds. We can offer a dedicated team to assist you in the design and production of your custom chamber requirements, offering complex geometry chambers with tight focal points and tolerances.
COMMON MATERIALS AND MASS
Materials
316L and 304L Stainless Steel
Nickel Based Super Alloys i.e Mu-Metal
Alloy 6082-T6
Maximum Size
(W) 700mm x (D) 700mm x (H) 1000mm
500kg Mass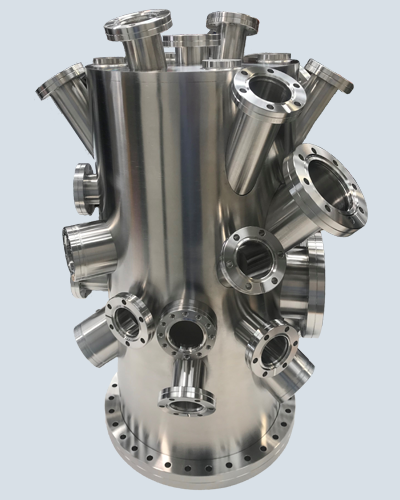 MBE CHAMBER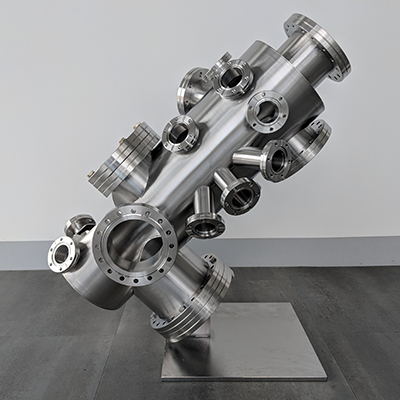 PREP CHAMBER
APPLICATIONS
UHV Chamber Applications
We supply bespoke ultra-high vacuum chambers manufactured to your specific requirements. After being assigned a project engineer, who will oversee the build from design through to completion, we will discuss the chamber application. Typical applications may be one of the following:
Surface Analysis
Preperation Chamber
Deposition Chamber
Transfer Chamber
Radial Telescopic Transfer Arm
Load Lock
COMPLETE ASSEMBLY SOLUTIONS
Experienced technical staff are on hand to manage your chamber project through manufacture, providing information and support, ensuring that the project's build targets are met. As a result, Vacgen provide unrivalled value for money by supplying fabrications that fulfil your requirements first time, every time.
TOLERANCES AND LEAK RATE
Standard Tolerances*
Phi & Theta Angles ±0.5°
Port Length, General ±1mm, Analyser Port Only ±0.5mm
General Tolerance R2.0mm
Leak Rate 2x10-10 mbar ls-1
*Tolerances can be improved depending on manufacturing drawings supplied and machining methods
ARPES ANALYSIS CHAMBER
Contact Vacgen to discuss your requirements